One small piece of the Quiet Corner has been preserved forever thanks to the generosity of the Hayden family who recently donated a 33-acre woodland parcel in East Putnam to the Wyndham Land Trust.
The land, part of a homestead that had been in the Hayden family for five generations, will now be known as the Wyndham Land Trust's Hayden Family Nature Sanctuary, or "Corridor to California Hill."
"The land slopes gently upward to what we have always called 'California Hill.' said Mary Hayden, the eldest of the five Hayden siblings, who with her partner Carla Tomaso of Pasadena, CA, donated the parcel to the Land trust after purchasing it from the Hayden estate. "This forest is a natural wildlife corridor where red foxes, mink, wild turkey, and the ever-present deer herds roam."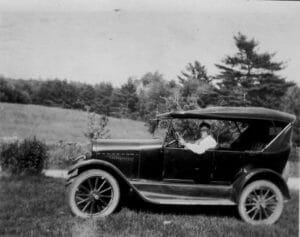 Walter Burrill Hayden was born across the road from the parcel in a circa 1740-farmhouse on East Putnam Road in Putnam in 1915. Thirty-one years later he married Ethel Pitkin, and together they raised five children on their small farm. They tended a large vegetable garden every summer, selling strawberries and sweet corn at a roadside stand, canning and freezing much of the harvest and stocking the local food pantry with surplus produce.
"We used to sled down the hill to the road when there was a clearing for pasturing sheep, and we used to draw all our water from a spring a few hundred feet up in the woods," said Mary Hayden. "Our parents could see the sheep grazing on the hill across the street in the 1950s-60s when our father raised a flock for wool and mutton. We all roamed the woods and the fields as children, cutting Christmas trees, gathering greenery for wreaths, and helping harvest hay, crops, and firewood."
Walter and Ethel's marriage lasted for 60 years until Walter's death at age 91 in 2006, followed by Ethel's at age 85 in 2013. Their five children are now scattered across the US, but the siblings worked together on a plan which resulted in protection of a portion of the land that their parents loved.
"For me, the permanent conservation of this piece of our family's land is a fitting legacy of our roots in East Putnam, and an honor to our parents, who loved living in this place," said Lisa Hayden of Sturbridge. "I think they found great spiritual renewal in the woods, fields and garden. It is good to know that this forest will be contributing to the ecological health of our region into the future, supporting clean air, water and soil, sheltering birds and forest-dwelling creatures, and serving as a connection to the surrounding landscape."